Does this guy pay attention to what he states from one minute to the next? This video clip of the Nov. 15, 2018 has the Chair stating "I haven't got the right to suspend you".
Then he's quoted in the article below claiming "Legally, I can have her removed,". Then he and the other rogue trustees notify a duly elected official (Trustee Kaljur) that she has been suspended. This was all done behind the landowners backs. Nothing published on the website. Just get rid of someone secretly. Everything these so called trustees do is in secret now. They are ashamed to face the landowners.
Must have burnt their guts to put their signatures on the apology. This is how they govern – not by rules and bylaws – but by their personal feelings.
How soon will the dictator cave on his curt response to the editor of the Comox Valley Record https://www.comoxvalleyrecord.com/news/union-bay-improvement-district-board-apologizes-to-trustee/ regarding Trustee Kaljur's demand that the apology letter be mailed out to all landowners? "That's why there's a newspaper." I'm betting on another cave.
goat article https://www.mycomoxvalleynow.com/45205/union-bay-trustees-meeting-dissolves-into-shouting-threats-to-call-police/
UNION BAY TRUSTEES MEETING DISSOLVES INTO SHOUTING, THREATS TO CALL POLICE
---
SHARE ON:

JAMES WOOD, STAFF FRIDAY, NOV. 16TH, 2018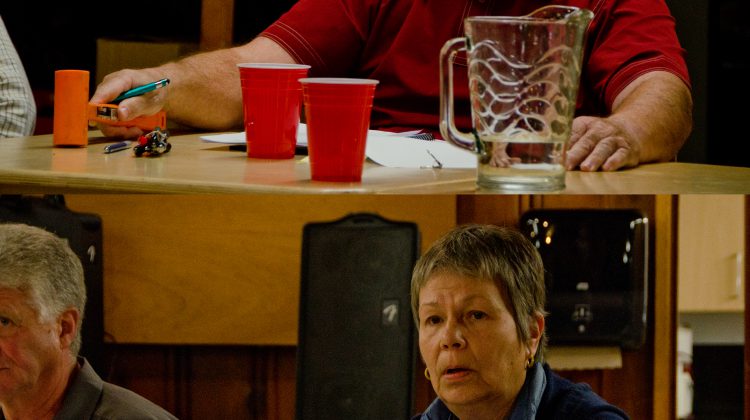 UBID chair Ted Haraldson and Trustee Susanna Kaljur are pictured during the UBID trustee meeting of November 16th, 2018. Photo by James Wood/98.9 The Goat/Vista Radio
UNION BAY, B.C- The elected officials of the Union Bay Improvement District are having trouble getting along.
Last night, the board held its regularly scheduled public meeting, which was attended by all the trustees. Due to UBID's chief administrative officer Gordon Mason being sick, he was not in attendance, and UBID chair Ted Haraldson was supposed to have read the CAO's report.
However, the meeting did not start smoothly. When the question of approving the minutes of October 18th came up, trustee Susanna Kaljur indicated she wanted to make a correction to the written record.
At that previous meeting, Kaljur had left after a disagreement with Haraldson and the other trustees over a report from the district's public works manager, concerning practices about turbidity measurements and the issuing of boil-water notices.
Kaljur indicated she did not agree with the minutes as written, and desired for a correction to be read out by Haraldson and then voted on by the board on whether or not to include the correction.
She never did manage to get that correction read, due to multiple interruptions by other trustees which escalated into a yelling match between Kaljur and the rest of the board. At one point, Haraldson threatened to call the RCMP after indicating he wanted Kaljur removed.
After Kaljur left her seat from the trustee table and went to sit with the public, Haraldson adjourned the meeting. Kaljur and around three quarters of the people gathered at the meeting then left the room.
Immediately after the adjournment, Haraldson told the MyComoxValleyNow.com newsroom that the meeting was closed due to disruptions, not going by the rules and the UBID's own bylaws.
"I will not let a meeting get out of control," said Haraldson, at the time.
"No one, that is a chairman, should let a meeting get out of control. I'm very disappointed that we could not follow through with this meeting, and unfortunately it happened again."
He said that landowners would be informed of the details contained in the CAO's report, and had previously indicated that would be accomplished by posting the details on the UBID website.
He also indicated that the report Kaljur had been seeking would be coming out in the near future.
"A report is coming out," said Haraldson.
"It's unfortunate that it didn't come out today. It wasn't coming today, but it was coming in the next number of days. It has been all done, it's just a matter of bringing out. That report took a while, but it is on its way out."
As for whether or not he would speak with higher levels of government to try to work out the chaotic UBID meetings, Haraldson said "we have choices that can be made".
"Those will be followed through if necessary, I'm hoping not," said Haraldson.
"I'm hoping trustee Kaljur can get on the same page with the rest of us. She is a smart gal, and I'm sure that she can contribute to the rest of us if she wanted to, but unfortunately, she doesn't seem to want to do that. I don't know why. I really hope that she does."
After that statement, Haraldson was approached by trustee Peter Jacques, who asked to resume the meeting. The gathered trustees, minus Kaljur, returned to their seats and the meeting got underway.
Kaljur and the residents who left did not return during the rest of the meeting.
During Haraldson's reading of the CAO's report, it was stated that the water treatment plant project is on-schedule, with design work ongoing and construction planned for February and March.
A "source to tap" report on UBID's water system is also in the works, and the district has been having productive meetings with Island Timberlands about efforts to protect Langley Lake from any ill effects caused by nearby logging.
The reading of the reports and the rest of the resumed meeting proceeded without disruption, and it ended after trustee's voted to cancel the December 20th meeting as it appeared many people would be on vacation.
Reached afterwards for comment, Haraldson said Kaljur's concerns about turbidity were misinformation.
"Vancouver Island Health and Dan McGill are on top of this," said Haraldson.
"Regarding turbidity testing and all the rest of it, that's governed by Vancouver Island Health. If they're not satisfied by the testing that goes on, they will inform Dan McGill, and changes will be made at that time. Vancouver Island, they do the ruling on that for water sources that are being used by the public."
As for the shutdown of Kaljur's attempts to raise her concerns about the previous meeting minutes, Haraldson believed what had transpired was appropriate.
"I think that was appropriate because she wasn't there, and making a correction, to try to turn around and make it sound like something else, is not right," said Haraldson.
"It was recorded, and put out in the minutes the way it happened."
He also said there had been a show of hands and a vote to pass the previous meeting minutes.
As for what he planned to do to resolve the differences between Kaljur and the rest of the board, Haraldson stated there were "are number of directions they could go".
"Legally, I can have her removed," said Haraldson.
"I don't have a sergeant of arms here, I can turn around and hire a sergeant of arms and have her bodily removed, but what's the point? What is the point? The thing is, it's the disruption of the meeting. The people that are here, I would like them to hear these minutes. Some of the people stayed here, and listened to the minutes. The rest, left. That's the division of the community, that's the unfortunate part."
He indicated he was willing to have called the RCMP, if he thought it was needed.
Haraldson also indicated he had issues with the way Kaljur communicated to other levels of government, independently of him. Under UBID rules, he indicated, communications are supposed to pass through the chair.
"Any correspondence that she wants to pass on to the ministry (Municipal Affairs), goes through the chair," said Haraldson.
"She breaks those bylaws all the time. I get emails from her, going to the minister at the same time. It's very unfortunate. She does not go through the chair. That is an issue, and she continues to do so. What am I supposed to do? I don't really have to do anything, because at the other end, the ministry, they're not even paying attention to any of this anymore. They've had enough. It's unfortunate. We just have to get on with it, get the job done at hand, and that is our water treatment plant. That is our objective, to get that done."
As for whether or not he would reach out to higher levels of government to discuss what had happened at the meeting, Haraldson said it was a possibility.
"Whether it can be resolved or not, I do not know," said Haraldson.
"This has been going on through two chairmen, the chairman before me as well as myself. It's a ploy, and it's disruptive, and that seems to be the ploy that is being used. I'm sorry, I won't put up with it."
The MyComoxValleyNow.com newsroom sought comment from Municipal Affairs, who sent the following statement.
"The ministry acknowledges that the Union Bay Improvement District Trustees have had disagreements on issues affecting their community," read the statement.
"Ultimately, the trustees are responsible for the management of their meetings, and are accountable to landowners for their decisions and conduct in those meetings."
"Ministry staff have been available to provide advice and have encouraged UBID to seek neutral consulting assistance. The ministry continues to be available to UBID administration to provide advice or discuss matters with them."
"Specific questions about efforts by the trustees to improve their working relationships should be directed to the Union Bay Improvement District, as they are in the best position to comment on the details of such matters."
Comment was also sought from Kaljur, who replied with the following statement.
"Firstly all the trustees should be given training in deliberative process," said Kaljur.
"The Board (minus Ted Haraldson) had one day training but this board has not put into practise what was learned. The minutes do not resemble what actually happened. The board does not follow Roberts Rules. I have asked for an independent investigation into allegations (without evidence) of harassment made against me."
Kaljur also said the board of trustees does not want her opinion to be heard.
"That is unconstitutional," read her statement.
"The remedy for this is simple; follow the rules, allow me to express my opinion unmolested, out vote me and then move on. That is all that is needed. I do have a voice and all I ask is to be heard, not agreed with, just heard."
The video recording of the November 15th meeting will be made available on the UBID website.