https://www.mycomoxvalleynow.com/50714/union-bay-mailing-out-boards-apology-letter-to-susanna-kaljur/
UNION BAY MAILING OUT BOARD'S APOLOGY LETTER TO SUSANNA KALJUR

ASHLEY ROBERTS, STAFF WEDNESDAY, FEB. 27TH, 2019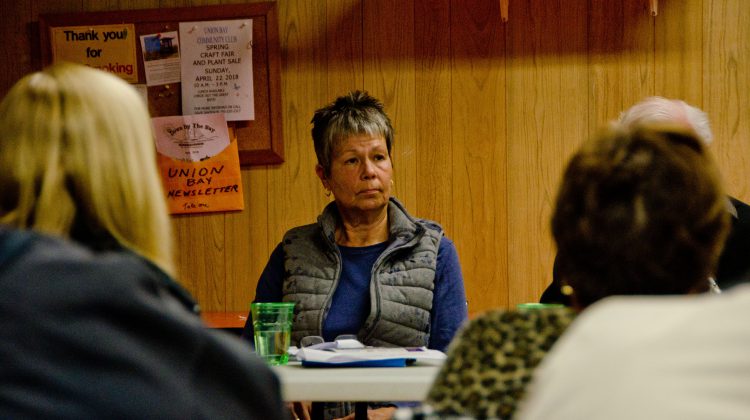 Vista file photo of Susanna Kaljur. Photo by James Wood/98.9 The Goat/Vista Radio
UNION BAY, B.C- The Union Bay Improvement District board is letting their residents know they're sorry.
Earlier this month, the district posted a letter to their website, which carried an apology to trustee Susanna Kaljur from the four other trustees on the board for her "suspension" earlier in 2019.
That letter was in response to Kaljur's lawyer, Jason Gratl, who had sent a letter to the board threatening legal action over the suspension and asking for an apology.
Addressed to the individuals on the board, being chair Ted Haraldson, trustee Rick Bitten, trustee Glenn Loxam and trustee Peter Jacques, the letter claimed that the suspension had no legal basis.
In their written statement, the four trustees state they have been told by the province's Ministry of Municipal Affairs and Housing that there are no provisions under the Local Government Act allowing the board to suspend an elected trustee from office.
"We acknowledge that the decision to suspend Trustee Kaljur is of no force or effect," read the letter.
"We sincerely apologize to Trustee Kaljur for our actions in this manner and regret any inconvenience our decision may have caused her. We hope that as a Board, moving forward, we can work collectively and cooperatively to serve the interests of our residents."
While the district put the letter on their website, it was not immediately apparent if it would also be mailed out to rate payers. A message from lawyer Peter Johnson to Gratl on February 15 and released by Kaljur has now made it clear that rate payer's will be getting that letter themselves.
The letter is included in full below.
---
Mr. Gratl:
I am legal counsel to the Union Bay Improvement District.
I have been asked to advise you that in response to your letter dated February 12, 2019, addressed to members of the Board of Trustees, the attached letter has been posted to the Union Bay Improvement District website, and that a copy of the letter has been sent to your client.
The Improvement District does not have the resources available to mail a copy of this letter to each elector today. The Improvement District is prepared to mail a copy of the letter with the next water bills, which will be sent out at the beginning of March.
I trust this satisfies your client's concerns regarding the decision to suspend her from office.
Peter Johnson*
*Peter D. Johnson Law Corporation
---
Gratl confirmed that his office received the letter, while Johnson's office declined to comment.
Kaljur had also threatened legal action against Haraldson specifically, due to what Gratl described as defamatory statements by Haraldson published by MyComoxValleyNow.com in an interview after Kaljur's suspension.
That legal action is now proceeding.
Both the February and March public meetings of the board, which were barred to the public, were cancelled by Haraldson without explanation earlier in February.