Sorry – I never thought to provide info on second husband – afaik he's still alive.
https://vancouversun.com/opinion/columnists/ian-mulgrew-retired-b-c-woman-takes-on-company-in-fight-over-drone-footage
Mary Reynolds has sued a company that has got into the ship disassembling business, posting drone video online of their controversial operation
Author of the article:
Publishing date:
Jul 28, 2022 • 4 hours ago • 5 minute read • Join the conversation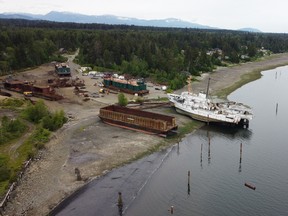 Mary Reynolds cackles in mock horror that anyone would accuse her of being some Wicked Witch of the West on a broomstick: "How could I be harassing anyone from 200 feet in the air?"
The 71-year-old Reynolds doesn't give a damn who likes or dislikes her — and in Union Bay, a little seaside community that's certainly not over-the-rainbow or Our Town, that's apparently a few.
You'll find it about 90 km north of Nanaimo, 14 km south of Courtenay. It was once a major port (1888 to 1960) for the Union Coal Company.
Reynolds is suing a local shipyard, warehousing and marine-service firm, Deep Water Recovery Ltd., director and manager Mark Jurisich, along with four "John Does." She alleges they tried to intimidate her and destroyed her drone.
They deny all her charges and have responded with a countersuit insisting she is engaged in a campaign with others that is "wrongful, high-handed and deserving of rebuke" for trespass, nuisance, invasion of privacy and illegal operation of a drone.
The feud started when Reynolds began recording videos of what was happening on a local beach.
"Nobody can see what they're doing there unless you go up in the air," she explained. "But the eyeball in the sky, gives a perfect view of what's going on down there. It's a mess."
The firebrand moved to Union Bay in 1994 from Alberta.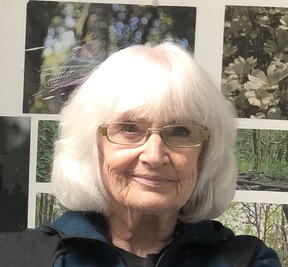 For 13 years, she worked as an intake interviewer for Legal Aid in Edmonton and her husband for the provincial government. Her now-deceased second husband took a buyout when there were civil service cuts and they moved.
"He and I had come out to visit a friend of his in Victoria and I had never been out to B.C. before and I couldn't believe it, I thought, oh, my god, somehow we must end up here," she remembered. "We did, and I love it."
She cackled again.
"Mind you, Union Bay isn't happy I'm here, I can tell you that! I wouldn't win Miss Congeniality here."
She gleefully continued.
"I started speaking out in 2006-2007, sending out flyers that said, 'I'm not looking to make friends. I'm not auditioning to be in your club or your group. I'm just giving you information.' But in Union Bay you're not allowed to have an independent thought."
Back then it was a large real estate development that got up her nose.
"The thing is I don't like people," she confided, eyes twinkling, a septuagenarian Samantha of Bewitched.
In 2021, she bought a DJIMini2 drone with a high-resolution camera as part of a new-found interest in nature photography and videography.
Coincidentally, that's when Deep Water began disassembling ships.
The Concerned Citizens of Baynes Sound and the K'ómoks First Nation feared the ship-breaking could leach asbestos and other hazardous materials into the ocean. They denounced the operation.
In February and March, Reynolds's lawsuit alleged, "Jurisich attended the residences of community members who have publicly criticized DWR ship-breaking operations as posing risks to the environment, and has engaged in threatening behaviour, including pounding on doors and windows, and threatening to bankrupt them if they continue to criticize DWR operations."
In April, the Comox Valley Regional District launched a B.C. Supreme Court action, seeking an injunction to stop the work.
Then, about 1:10 p.m., June 11, Reynolds alleges in her statement of claim she was landing her drone in the community hall parking lot when a vehicle driven by John Doe #1 arrived and before it came to a stop, Jurisich jumped out; he came at her in "a highly aggressive and angry demeanour."
A tall, middle-aged man who weighed about 250 lbs., Reynolds estimated, Jurisich towered over her 5-foot-8, 125 lbs. frame.
Before she could land the drone, she stated, as it was about two metres off the ground, Jurisich grabbed it, yelling that she was harassing him.
In her claim, Reynolds said she did not know Jurisich at the time nor that he was a director and operations manager of Deep Water.
Jurisich continued shouting, bringing his face close in to hers as he shook his fist, she alleged. She feared for her safety and did not try to seize back her drone. Jurisich left with it, she said.
At about 10 p.m. on June 14, Reynolds alleged, Jurisich drove up and parked in the dark near her house, walked partway up the stairs of her front porch and deposited the drone. John Doe #2 stood watch outside the pickup.
The memory card was erased and the drone was damaged and inoperable, according to the claim.
"Delivering Reynolds' broken drone back to her at night in clandestine fashion was intended to intimidate Reynolds into ceasing her lawful activity of photographing and making video recordings of DWR operations and disseminating those images. Jurisich, John Doe #2 and DWR were sending a message to Reynolds that they could rob her, break her personal property and violate the sanctity of her home at any time they want."
On June 15 about 2:20 p.m., Reynolds was again at the Union Bay Community Hall when Jurisich pulled up directly in front of her vehicle. She alleged he appeared angry.
"Jurisich aggressively pushed his head fully into her car window, yelling, 'You are harassing us. There's her drone, I'm calling the police.'"
Reynolds managed to inch her car around his blocking vehicle. She alleged he followed the few blocks to her home.
A second white pickup truck carrying John Doe #3 and John Doe #4 arrived.
In front of her, according to the statement of claim, Jurisich called the Mounties and accused Reynolds of harassing him and his company, and that she was operating a drone in contravention of regulations in a no-fly zone.
She is seeking general, special, aggravated and punitive damages, as well as special costs. She also wants an injunction keeping the defendants and any Deep Water employee from approaching her home.
The defendants denied all Reynolds' allegations, maintained her version of events was inaccurate and accused her of conspiring with others in a campaign to damage Deep Water Recovery. They, too, want compensation and damages.
Neither side's claims have been proven in court.