A condensed version of why we are in this mess with the swearing in: Jan. 10, 2019 this board met excluding, and not advising Trustee Kaljur of the meeting where they voted to (unlawfully) 'suspend' Trustee Kaljur and also changed the dates of the election and the AGM. The AGM has always been before the final vote as it is the meeting for the landowners to be presented with the opportunity to review the financial statements, have the trustees and administrative respond to questions and concerns, etc. and cast their ballot being informed. This board at their unlawfully held meeting Jan. 9, 2019 unlawfully changed the AGM to after the election. So now after screwing that process up they are trying to use the rules they violated to justify their continued unlawful actions.
We know these people do not obtain legal advice and just plow ahead making up their versions of what is legal. They are under the impression their terms don't end until they allow the new trustees to be sworn in even though one was voted out and the other one didn't run for re election.
Look at what he is claiming without seeking legal advice or word back from the ministry. He just makes up crazy shit. Their term is up – it doesn't extend beyond the legal term. There are currently three existing legally held trustee positions which give them a quorum. The board functions as long as there is a quorum. Loxam and Jacques are no longer trustees and can't represent landowners when their terms have expired – has nothing to do with when the new trustees are sworn in. It is not essential for the board to have five trustees to carry out their duties during the transition especially when the terms of two of them have expired . Their terms are not extended based on the oath being taken. More bs being fed to the landowners.
"Until their term is up, the term is up when we swear in the new trustees," said Haraldson.
"Their term is not completed until the new trustees are sworn in. All trustees have to be sworn in, before they begin their term."
It's another example of why this administrator must go. A professional qualified administrator would have determined the correct procedures for the dates of the AGM and election abiding by the bylaws and policies in place. Instead we have an administrator who appears to be a funky willing to carry out unlawful acts dreamed up by the chair. The administrator is expected to remain neutral and loyal only to the Improvement District on behalf of the landowners no matter who the trustees are. That is not what we have now. We have an administrator who conspired to exclude a duly elected trustee from receiving material distributed to all trustees and then fabricated false minutes from unlawful meetings. They had no problem firing the fire chief. Let's show this unqualified and unprofessional the same door and perp walk him out like he did to the fire chief.
People need to send a clear message and force this dictatorship to end. They count on people not speaking up. That's how they keep getting away with unlawful actions. We have been told by the Ministry our only option is at the ballot box and we used that democratic tool only to have it cast aside by those unwilling to concede defeat.
The board has taken one paragraph in the Meeting Procedures Bylaw 263 to justify their actions while completely ignoring the rest of the bylaw. Cherry picking what to adhere to and what to ignore. You get the government you deserve – is this what Union Bay deserves? Grow a backbone folks – people fought and died for you to live in a democracy.
So if the community allows this board to continually make unlawful decisions and the new trustees wait for the process of being sworn in to be done legally – you are fools. A clear message must be sent that Union Bay landowners demand democracy and insist that the newly elected trustees take their positions. The community has sent a clear message who they want to represent them and it is not Loxam and Jaques.
https://www.mycomoxvalleynow.com/53535/union-bay-chair-confirms-lame-duck-trustees-still-working-as-trustees-despite-election-results/
Union Bay chair confirms lame-duck trustees still working as trustees, despite election results
---

James Wood, staff Thursday, Apr. 25th, 2019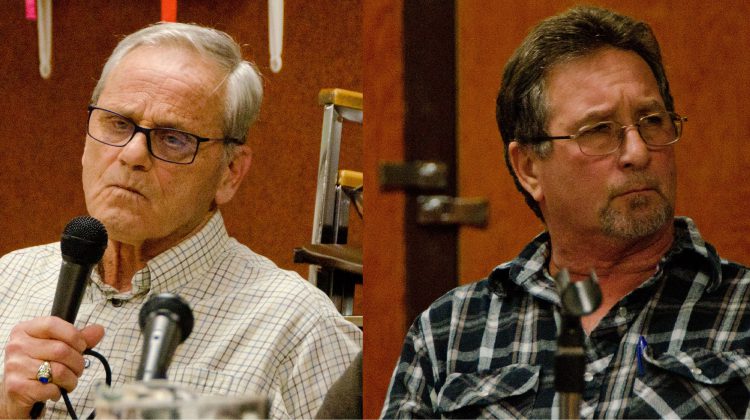 Union Bay trustees Peter Jacques and Glenn Loxam are pictured in a pair of Vista Radio file photos. Image by James Wood/98.9 The Goat/Vista Radio
UNION BAY, B.C- Despite last weekend's election, the trustee board of Union Bay doesn't have any official new faces just yet.
The stalled handover of power from trustees Glenn Loxam and Peter Jacques to inbound trustees Paul Healey and Hein Vandenberg has been confirmed by trustee board chair Ted Haraldson, who spoke with the MyComoxValleyNow.com newsroom on Thursday.
The previous day, Haraldson had announced the postponement of the community's annual general meeting, set for this evening, due to fears of violence at the event.
RELATED: https://www.mycomoxvalleynow.com/53442/union-bay-chair-cancels-public-meeting-over-fear-of-violence/
After the announcement, there were concerns that Haraldson had acted unilaterally, given trustee Susanna Kaljur's opposition to the decision and trustee Rick Bitten's absence.
However, Haraldson stated today that outgoing trustees Glenn Loxam and Peter Jacques had voted in favour of the decision.
"The new trustees that were voted in, they haven't been sworn in, so they're officially not trustees until they're sworn in as trustees and do the oath, which they wish to do after the AGM," said Haraldson.
Asked if that was a process laid out in a bylaw for Union Bay, Haraldson stated that the new trustees were "not official" until they swear an oath of office, under rules laid out by the province. This means Jacques and Loxam will remain in office, until the community's annual general meeting.
"You usually have an inauguration, and you welcome Paul and Hein in, have them swear the oath, and they become trustees," said Haraldson.
"It's quite simple."
As for whether or not he was comfortable with that chain of events, Haraldson indicated he was.
Because of what happened the other day, at this COW (committee of the whole) meeting that never got off the ground, I was concerned about the safety of all concerned, for employees of the improvement district, the landowners, I want an AGM that is going to be under control," said Haraldson.
"I do not want people to be getting into the confrontations we had the other day, especially with 200 people."
He was also comfortable with Loxam and Jacques remaining as trustees.
"Until their term is up, the term is up when we swear in the new trustees," said Haraldson.
"Their term is not completed until the new trustees are sworn in. All trustees have to be sworn in, before they begin their term."
He hadn't heard back from the provincial municipal affairs ministry about the re-scheduling of the AGM when speaking to the newsroom, but said residents should not go to the community hall tonight.
A request for comment on the entire situation has been sent to the provincial municipal affairs ministry.