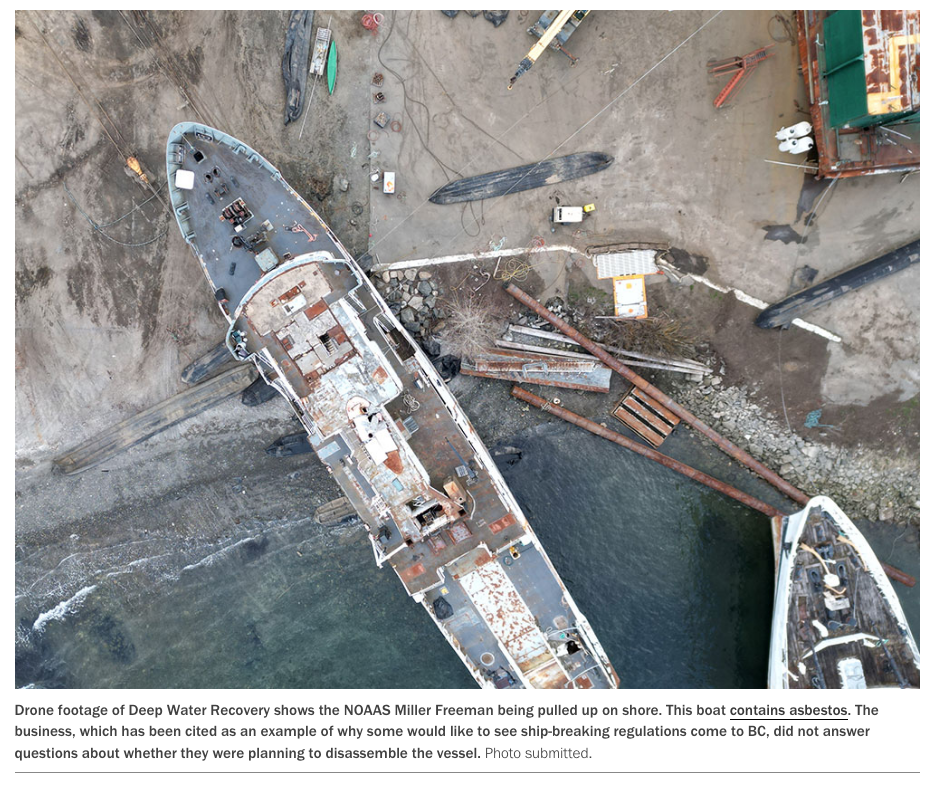 https://thetyee.ca/News/2023/04/20/BC-Greens-Call-Provincial-Ship-Breaking-Regulations/
Michelle Gamage TodayTheTyee.ca
Michelle Gamage is a Vancouver-based journalist with an environmental focus who regularly reports on climate for The Tyee. You can find her on Twitter @Michelle_Gamage.
More needs to be done to prioritize public and environmental health, says Sonia Furstenau.
The BC Green Caucus wants the province to step up its game when it comes to regulating ship breaking, an industry that dismantles vessels and sorts materials into recycling or waste streams.
Without "meaningful action to regulate this hazardous industry" ship breaking poses "serious risks to workers, communities and our marine environments," said Adam Olsen, MLA for Saanich North and the Islands in the legislature during question period on Tuesday.
Olsen pointed to Deep Water Recovery, a ship breaking business operating on the east coast of Vancouver Island, as an example of why the province needs stronger regulations.
Deep Water Recovery has pushed up against provincial rules around land use and been found to be out of compliance four times under B.C.'s Environmental Management Act and Hazardous Waste Regulations.
Despite this, the company has not yet faced enforcement from provincial regulators, a point Olsen pressed Minister of Environment and Climate Change Strategy George Heyman on.
Heyman replied that he realizes "this is a critically important issue to people who live in the area," and that "they have been communicating with us directly and often."
Deep Water Recovery director Mark Jurisich told The Tyee "WorksafeBC, Environment Canada, the Ministry of Environment, every other government agency that comes here, I have absolute confidence in them. If I was doing something wrong I would have been closed down."
Heyman was unavailable for an interview but a ministry spokesperson sent The Tyee an emailed statement noting how ministry staff have visited the site multiple times, issued warnings and an advisory and will continue investigating concerns and working with other regulatory agencies "to ensure the environment and human health are protected."
But BC Green Party Leader Sonia Furstenau says the province needs to create a regulatory framework around ship breaking to make sure public well-being, rather than corporate interest, is centred in government decisions and regulations.
This will require leadership, political will and for an "honest" assessment of the industry and its potential risks, Furstenau told The Tyee. A lack of compliance and enforcement can lead to industrial disasters like Mount Polley, she adds.
Shipbreaking is hazardous work, and has led to hundreds of deaths in India, Pakistan and Bangladesh in recent years.
Canadian government boats, like the coastguard and navy, are required to be dismantled in Canada but commercial vessels, like BC Ferries and Seaspan vessels, can be sent anywhere. One argument for why ship breaking should happen in Canada is that the industry faces more oversight via broader regulation around worker safety and the handling of hazardous materials here.
But there are flaws: In Newfoundland, 500 to 600 workers were exposed to asbestos at the Marystown Shipyard, which dismantled vessels in the '70s. This made about half the people who worked there sick. Here in B.C. a worker was seriously injured last year when a metal beam fell on his lower body while ship breaking at the Nanaimo Shipyard.
"Unless government as a regulator sets parameters around what is and isn't allowed we get industry shaping how this activity occurs in B.C.," Furstenau says. "That's backwards."
"We have institutions and government bodies whose task it is to regulate industrial activity and I think the public expects them to do their job," she says. "It's not just that we could see harm to aquatic and local environments and human health. We're also continuing to see an erosion of public trust and expectation of government bodies and institutions."
When asked if specific ship breaking regulations would be helpful to him as a business owner, Jurisich told The Tyee "without seeing what these people are proposing I have no idea."
Ship breaking activities are currently covered under a number of different broad and overlapping regulations, like handling hazardous materials, shipping and waste management.
In the emailed statement from the Ministry of Environment, the spokesperson said ship breaking is currently regulated as a commercial waste management or waste disposal industry which requires a permit under the Waste Discharge Regulation of British Columbia's Environmental Management Act. Deep Water Recovery has all the necessary permits, the spokesperson added.
Speaking to Olsen on Tuesday, Heyman said ship breaking is "an inter-jurisdictional issue."
That's true: ships moored offshore fall under federal jurisdiction, the foreshore is under provincial jurisdiction, and upland, or beyond the high-tide mark, is covered by local government. But environmental concerns, which have been cited in community-based and non-governmental organizations' opposition to Deep Water Recovery's business, fall squarely under provincial jurisdiction.
The Concerned Citizens of Baynes Sound, a local advocacy group, and the NGO Shipbreaking Platform, a international organization that works to improve global ship breaking practices, say ship breaking could pollute Baynes Sound, a waterway where half of B.C.'s shellfish is produced.
Deep Water Recovery operates in Union Bay, which opens out into Baynes Sound. The sound is recognized by Fisheries and Oceans Canada as an Ecologically and Biologically Sensitive Area and as a provincial shellfish reserve.
Old vessels can contain hazardous materials, like lead paint, asbestos for insulation, PCBs found in rubber seals, insulation and paint, as well as other heavy metals like mercury and fuel.
Dismantling vessels can expose workers and the environment to these materials.
Jurisich says he didn't know how many barges his company has dismantled to date. He also did not answer a question about if Deep Water Recovery is planning on dismantling the NOASS Miller-Freeman, a ship the company has been slowly moving onto land. When the ship was sold in an auction in 2013 its bidding document noted the buyer could release asbestos fibres by "cutting, crushing, sanding [or] disassembling" the vessel, though it does not say how much asbestos is contained in the ship.
Other levels of government also are actively trying to shut the business down: the Comox Valley Regional District is seeking an injunction against the business for allegedly violating regional bylaws. The K'ómoks First Nation, whose traditional territory Deep Water Recovery operates on, has also spoken out against the business.
Furstenau says she's heard from people from every corner of the province who say industry is threatening their health and well-being. She applauds the grassroots monitoring work the Concerned Citizens of Baynes Sound have done through filing Freedom of Information requests and following paper trails — but adds this should be a regulator's job, not that of citizens.
"They're having to do monitoring, getting evidence of industry's activities and reporting it over and over to the provincial government. And they're getting a shrug from the government agency that should absolutely be preventing this from happening," she says.