They're on the run and hiding.
Dunning-Kruger effect again. "Chair Haroldson has are cancelled the February 21 & March 21, 2019 Board Meetings." Isn't his name Haraldson? Has are cancelled?
The Chair does not have unlimited powers and certainly can't cancel meetings unilaterally.
Everything these clowns say and do has to be checked on because they dream up rules and just spout things off the top of their heads.
From the bullshit election flyer: "I would never agree to anything that I felt would be a bad decision for this community and its people." Well he's already made numerous bad decisions and continues to do so because he hasn't got a clue about what is involved in being a Trustee!
Union Bay is in a mess because of actions like this which are made without any information to back them up. The Chair is doing exactly what caused the Ombudsperson's Office to step in when the then Chair pulled this same type of bullshit.
Why does the Chair believe he has the power/authority to cancel meetings? Wouldn't this be made by the entire board?
Excerpt from below which set off alarms bells with the Ombudsperson's Office:
…which granted additional powers to the Board Chair to close meetings to the public by decree "when circumstances interfere with District operations".  This amendment did not provide any legal authority for the decisions made to close meetings to the public, and also raised new questions for us about the reasonableness of the amended meeting closure procedure.
Now we have a Chair that believes he can just cancel meetings. All motions must be brought before the public. UBID can't run behind closed doors. How are they to function? Anyone want to make any bets on whether the dictator got legal advice before making this stupid decision? https://drive.google.com/file/d/1h5mZSpHP1iidmdBtJ9WbLoByfRhmrHKI/view
Wow- James Wood is always on the ball. Already has an article on line. https://www.mycomoxvalleynow.com/50343/union-bay-board-meetings-cancelled-for-february-and-march/
UNION BAY BOARD MEETINGS CANCELLED FOR FEBRUARY AND MARCH
---
SHARE ON:

JAMES WOOD, STAFF TUESDAY, FEB. 19TH, 2019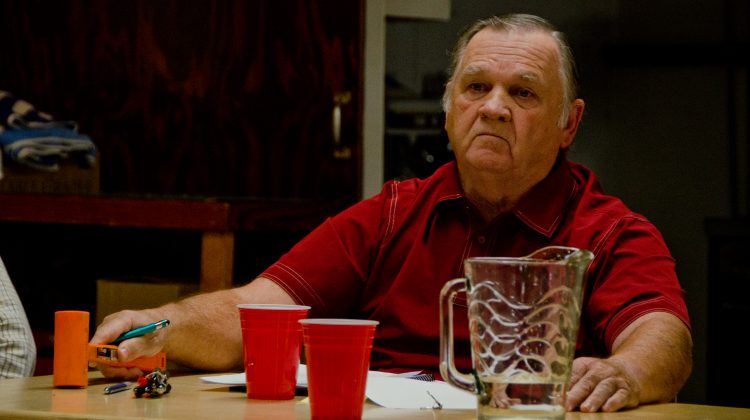 UBID chair Ted Haraldson is pictured during the UBID trustee meeting of November 16th, 2018. Photo by James Wood/98.9 The Goat/Vista Radio
UNION BAY, B.C- Union Bay's board of trustees won't be meeting in February and March.
That's according to a brief statement posted to the website of the Union Bay Improvement District on Tuesday afternoon, saying that the board's chair Ted Haraldson has cancelled the meetings of February 21st and March 21st.
The district board has been roiled by disagreements in recent days, with trustee Susanna Kaljur getting a "suspension" lifted and an apology from the rest of the board.
When contacted by the MyComoxValleyNow.com newsroom for comment on the cancellation, Haraldson declined to explain his decision.