We had an efficient functioning board in 2015 under the Chairmanship of Carol Molstad, who brought us back from the brink of bankruptcy. Then Kip and his spokesperson David Godfrey and Peter Jacques (MLA Don McRae refused to confirm if he was in attendance) all cried the blues to Liberal Minister Fassbender (presented a petition with over 400 (I have been corrected and told the total was 360) landowners signatures stating landowners wanted UBID to grant an extension to KIP, who would pay for the Water Treatment facility) in Nov. 2015. After whining that UBID wouldn't extend an expired agreement, Fassbender appointed a facilitator. Wasn't that getting involved in the governance of Union Bay?
No one seemed to bother finding out if the expired 2011 Water Infrastructure agreement could legally be extended, including Fassbender, but they went ahead anyway and appointed a Facilitator in Jan. 2016, to get the parties (UBID & KIP) back to the bargaining table because KIP refused to negotiate a new deal with UBID, insisting the 2011 WIA was still in effect.
With the Facilitator in place Jacques and Loxam were elected at the AGM in April 2016 (McMahon/KIP, Loxam and Jacques sat side by side, proud as peacocks at the AGM) and within weeks of taking their oath, they met with KIP behind the other trustees backs, and without the Facilitator's knowledge (former Chair Carol Molstad confirmed these two did not have authorization to conduct business on behalf of UBID board) and presented a letter dated June 7, 2016, from KIP to the remaining board. See below. Worth mentioning: KIP and UBID along with the Facilitator had come to an agreement on June 6, 2016. Jacques and Loxam met with KIP the very next day to obtain the letter. Note also McMahon states in the last paragraph "…most of it we have discussed for many months." Well the UBID board hadn't been discussing this with KIP for many months – just Jacques and Loxam.
I would like to draw your attention to the paragraph that states: "4 acres to the UBID Fire Services as outlined in the KIP/CVRD Master Development Agreement…" So let me get this straight. KIP has always offered 4 acres for the new Fire Hall. When KIP negotiated a new water agreement with UBID, these guys negotiated down to (2.47 acres) 1 hectare from 4 acres? Why was this even included in the agreement since it was always in the Master Development Agreement? These guys have been touting the Fire Hall land as a real accomplishment. They brought in something that wasn't required and negotiated less land than the developer has offered for a decade?
The three trustees resigned in frustration as the two newly elected trustees were not acting in accordance with their positions. A by election was held in Oct. 2016 with Rick Bitten, Susanna Kaljur and Jim Elliott becoming trustees.
Someone? fired the (Steven Killiher) professional negotiator Molstad's board had hired along with a water expert (Hew McConnell).
At their very first meeting in Nov. 2016 with 5 neophyte trustees, Bitten, Loxam and Jacques voted to extend the expired 2011 WIA. Refusing to change the motion to seek legal advice as to whether the agreement was still valid. We were informed by UBID's counsel in Dec. 2016, the agreement could not be legally extended – 2 years after it expired Dec. 31, 2014. Why didn't anyone check this before getting signatures on a petition?
The majority of the board, Bitten, Loxam and Jacques, were confident in their negotiating skills and yet I don't think any of them have ever been employed as a negotiator. So they didn't even negotiate an interest free loan. They got 4 acres of land at the same inadequate elevation as the current waterworks and then negotiated less land than what had been agreed to in the MDA for the Fire Hall. Yay? 😦
This is the page from the Oct. 2017 Agreement with KIP https://allthingsunionbay.com/2017/10/17/kensington-island-properties-aka-34083-yukon-inc-and-union-bay-improvement-district-new-water-agreement-published/ referring to the Fire Hall land. They are very proud of their negotiation skills! Not many people can brag about negotiating for less than what was offered! Well, Godfrey, Royer and De jersey also negotiated basically nothing after the developer offered $17.4 Million dollars for water infrastructure upgrades and Langley Lake, never mind anything else. They negotiated a $1.7 million dollar interest free loan (telling us it was a gift) for a temporary water treatment plant we wouldn't own until a permanent plant was built and then we would have no use for it. Those three thought they were the great negotiators too!
Fassbender and Tara Faganello are the ones who catered to the whining of a developer who couldn't get his way and refused to negotiate a new water agreement. They are responsible for the mess and done nothing to rectify the shitshow caused by their Ministry. They don't know how to get out of it now and want us to believe it's normal procedure to not interfere and yet they did! Fassbender isn't there but the Liberal holdover buddy to KIP, Faganello is still there. Just because the NDP were elected – the Liberal flunkies who ran the government all those years are still there.
According to Union Bay's Letters Patent, the AGM must take place at a date from Jan. 1, to Apr. 30 with no legislative exemption but Faganello is going to make that exemption? Why does Faganello ignore the violations of the bylaws and policies taken that brought us to this mess?
Newly elected trustees begin their terms at the Annual General meeting – when it is conducted according the the election policy (which they violated) because the election is supposed to happen after the AGM.
"Newly elected trustees begin their terms at the annual general meeting."
Elected official are expected to conduct themselves responsibly – but if they don't – tough -the Ministry isn't going to step in.
"Elected officials are expected to conduct themselves responsibly to serve the communities they represent," read a statement from the ministry.
https://www.mycomoxvalleynow.com/53638/defeated-resigned-union-bay-trustees-will-stay-until-new-ones-sworn-in-municipal-affairs/
Defeated, resigned Union Bay trustees will stay until new ones sworn in: Municipal Affairs
---
SHARE ON:

James Wood, staff Saturday, Apr. 27th, 2019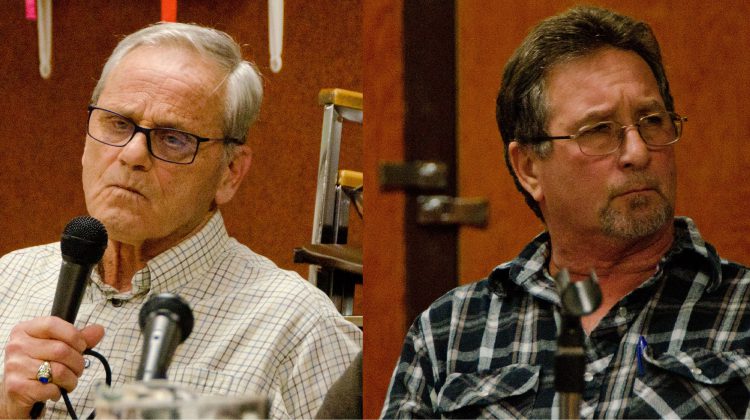 Union Bay trustees Peter Jacques and Glenn Loxam are pictured in a pair of Vista Radio file photos. Image by James Wood/98.9 The Goat/Vista Radio
UNION BAY, B.C- The trustee board in Union Bay won't be getting changed soon.
The Union Bay Improvement District (UBID) has been having a chaotic week. After last weekend's election, in which Paul Healey and Hein Vandenberg were elected to the two empty seats on the UBID trustee board, neither of them have been sworn in and the district has yet to hold it's annual general meeting.
The reason for that chain of events can be found here: https://www.mycomoxvalleynow.com/53442/union-bay-chair-cancels-public-meeting-over-fear-of-violence/
It has also been confirmed by board chair Ted Haraldson that the two trustees who would have vacated their seats, Peter Jacques and Glenn Loxam, remain on the trustee board.
In order to get clarity on the situation, the MyComoxValleyNow.com newsroom reached out to the provincial Ministry of Municipal Affairs.
The ministry responded by saying they were aware that trustees have had disagreements on issues affecting their community.
"Elected officials are expected to conduct themselves responsibly to serve the communities they represent," read a statement from the ministry.
"If trustees cannot meet these obligations, ministry staff are available to provide information about best practices for the conduct of board meetings and other procedural matters. Ministry staff continue to be available to Union Bay Improvement District staff to assist, where appropriate, as it works through its challenges."
The ministry also said that the terms of the new trustees will begin at the district's annual meeting, which remains postponed for fear of violence as of this publication.
"Under the legislation, at least once a year, an improvement district must hold an annual general meeting and this meeting must be open to the public," read the statement.
"Newly elected trustees begin their terms at the annual general meeting."
Asked if the ministry would be assisting with the appointment of a facilitator for the annual general meeting, which Haraldson had suggested earlier this week, the ministry indicated Union Bay was in charge of finding one.
"The Ministry continues to be available to assist UBID, where appropriate, as it decides its path forward for holding the AGM," read the ministry's statement.
"Please check with the UBID on timelines for their AGM."
As for whether or not trustees were conducting themselves responsibly, the ministry said they couldn't make comments on the specifics of individuals conduct.
There has been no new date for the annual general meeting released as of this report.