From this post: https://allthingsunionbay.com/2018/03/01/kensington-island-properties-aka-34083-yukon-inc-announcing-new-development-again/
The first homes should be getting built in May or June of 2019, according to McMahon. "If all goes well," he said.
It appears all has not gone well – we are all used to these empty promises. The only thing that has been accomplished is clearing land and exposing contaminated soil currently covered with soil condoms. The George Costanza of developers. KIP got a $5 million dollar mortgage at 9% interest in 2017 – https://allthingsunionbay.com/2017/11/16/kensington-island-properties-aka-34983-yukon-inc-5-million-dollar-first-mortgage-on-union-bay-property/
Borrower required funds to re-finance existing debt and soft costs relating to the development of this master planned community.
en.wikipedia.org/wiki/Soft_Costs
Soft costs. Soft Cost is a construction industry term but more specifically a contractor accounting term for an expense item that is not considered direct construction cost. Soft costs include architectural, engineering, financing, and legal fees, and other pre- and post-construction expenses.
MASSIVE UNION BAY DEVELOPMENT MARKS OFFICIAL LAUNCH
---
SHARE ON:
// // // // JAMES WOOD, STAFF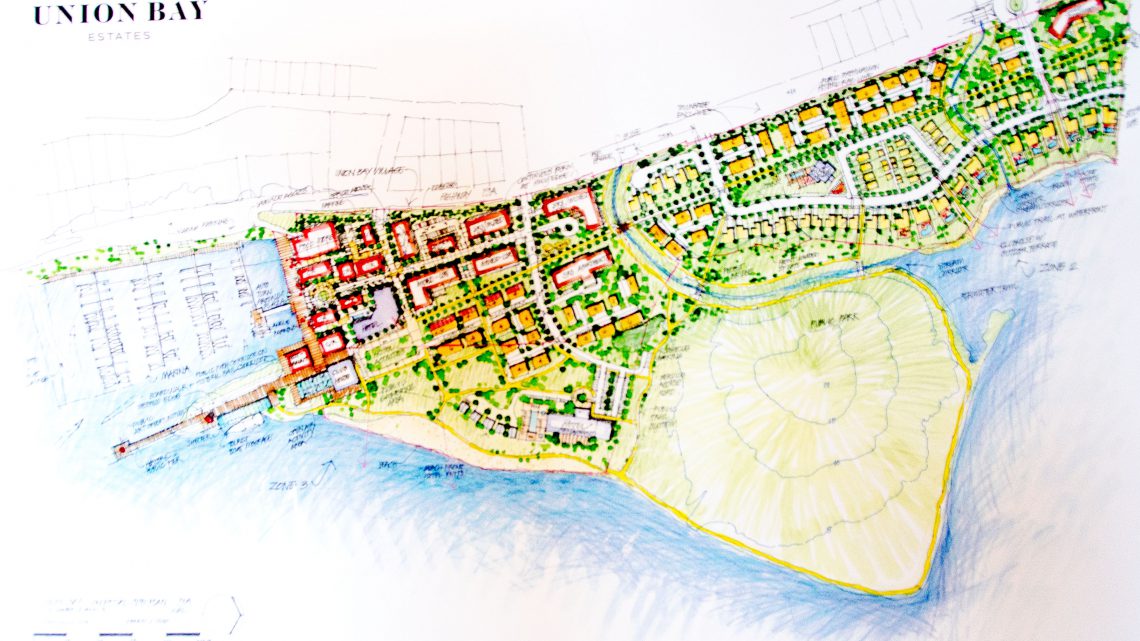 A photo of the draft community plan, presented on March 1, 2018. Photo by James Wood/98.9 The Goat/Vista RadioUNION BAY, B.C- One of the Comox Valley's oldest communities could be seeing huge changes in the near future. A long-running development project in the Union Bay area had it's official launch on Thursday afternoon at the Kingfisher Resort. The project, run by a company formerly known as Kensington Island Properties (KIP), is planned to bring in a total of 2,949 homes in the lightly-populated area, under the name of "Union Bay Estates". According to Brian McMahon, who's been working on the project for the last 21 years, the name change was meant to show the development as part of the community. "Everyone has known us as KIP, or Kensington, or whatever," said McMahon. "We're Union Bay. That's who we are. We're part of Union Bay, and we want to be fulfilling that name, that our development is Union Bay." The project will take up 346 acres in total, around the core of the current Union Bay community, with multiple phases. An overall population increase of around 7,500 to 9000 people is expected once the project is complete, along with an influx of new businesses. In news releases issued by the developer, a pair of new hotels are predicted, along with a movie theatre and walk-in clinics, among other improvements. The total timeframe of the project is set at around 10 to 15 years for completion. During the launch announcement, both Chief Nicole Rempel of the K'omoks First Nation and Peter Jacques, chair of the Union Bay Improvement District, spoke in positive terms about the project. "I have a 93-year-old girlfriend, and she is always on my case," said Jacques, while speaking at the event.
Peter Jacques, chair of the Union Bay Improvement District, is pictured during the launch of Union Bay Estates at the Kingfisher Resort on March 1, 2018. Photo by James Wood/98.9 The Goat/Vista Radio
"When are we going to see something happen here? I want to see something happen here before I die. I remember when this community was a bustling community, we had shops here, we had families here, we had children here. I want to see some of that, before I go." (I tell her) I'm trying my best." When speaking with the press, McMahon expressed a desire to see Union Bay grow again.
Brian McMahon speaks to reporters on March 1, 2018, outside the Kingfisher Resort. Photo by James Wood/98.9 The Goat/Vista Radio
"Union Bay used to have a population of 10,000 people," said McMahon. "When the colliery was running, there were three hotels, there were banks, there were grocery stores, there was a department store, and it's all gone. We're looking to bring a lot of that back into the community." McMahon also had more details on the planned remediation of the Union Bay coal hills, which are planned to be covered over by West Fraser Mills Ltd. According to him, the project will involve flattening the terrain to 50 feet across the hills, from a current elevation of 72 to 73 feet. Sand will then be used to cap the site, with an engineered membrane to go over top and be "heat-sealed". Another layer of sand would be placed on top, along with a "growth medium", and the site would be seeded with grass. No trees or anything with a taproot would be allowed on the site, as it could damage the membrane. "I suspect it'll be green in the spring, green in the fall, and probably brown in the summertime," said McMahon. "It's not going to have any irrigation." He believed it would eventually become a provincial park. "We're going to enhance the walkability of the property, and to the park that's its going to be," said McMahon. While the developer is still working through processes with government bodies to begin work on the site, the first phase of construction will involve an upgrade to the Union Bay marina this summer, and the construction of office spaces for Union Bay Estates in the community. The first homes should be getting built in May or June of 2019, according to McMahon. "If all goes well," he said.